DJ Hero Review
Score: 87 / 100
Good: A new challenge for music game lovers, great tracks, new 'scratch-pad' controller
Bad: Controller isn't the best, graphics are meh, multiplayer leaves you wanting more
Reviewed On: PS3

Air disc jockeys rejoice, "DJ Hero" is here. The newest entry in the Hero franchise "DJ Hero" allows gamers everywhere the chance to be a virtual turntable master.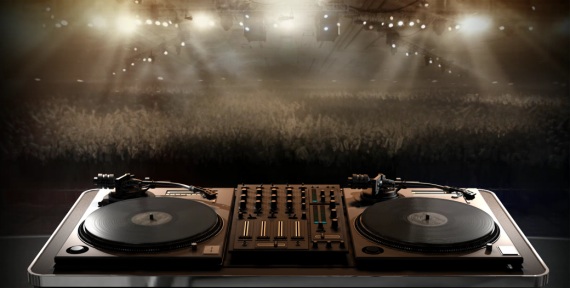 The Backdrop...

The game is controlled by a turntable peripheral that's included with every copy of the game. The controller features three colored buttons each representing an effect, a cross fader, a euphoria button (the "DJ Hero" equivalent of "Guitar Hero's" star power), a pitch bending knob, and of course a miniature turntable for all your scratching needs.
Let's Get Down to Gameplay...

The gameplay is something that fans of music games will be surprised by. While most players are accustomed to the idea of playing a plastic guitar to emulate the real experience in games such as "Guitar Hero," the more abstract concept of "turntablism" is expressed in such a way that it will take even music game veterans a lot of time to catch onto.
The most important aspect of any music game however is the soundtrack, and "DJ Hero" does not disappoint, for the most part. "DJ Hero" brings a breath of fresh air and a new idea to the world of music games.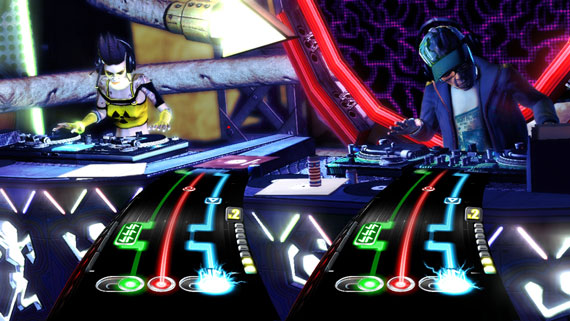 Every song featured in the game is a combination of two or more already existing songs. These mash-ups are well made and never feel cheap or under par. Aside from what are sure to be popular mixes such as the various Daft Punk mash-ups, there are a few hidden gems such as Cameo's "Word Up" vs Bel Biv Devo's "Poison" and the one-hit wonder master piece of Vanilla Ice's "Ice Ice Baby" vs MC Hammer's "Can't Touch This." Some of the songs seem overused and some mash-ups such as the title track "DJ Hero" are a little wonky. For those who enjoy music games but not the style of music prevalent in the most popular of the genre, "DJ Hero" may be your place.
Multiplayer...

The game also allows for a partner to pick up a guitar and jam along with the DJ during a few songs. Honestly, these guitar mash-up tracks are boring. The guitar parts are repetitive and tend to get drowned out by the series of effects the DJ will be unleashing during the song. The feature feels tacked on and poorly though out. I can understand though why it was included since it's very likely that anyone with an interest in "DJ Hero" already has a plastic guitar laying around.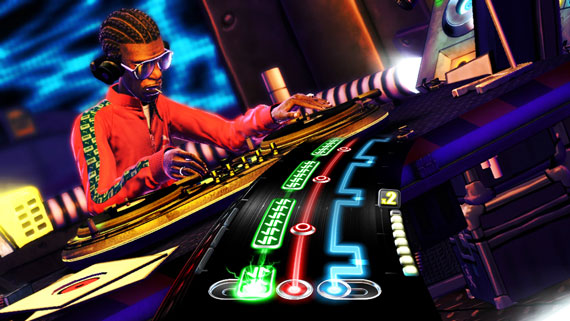 The Visuals...

Graphically "DJ Hero" isn't too different from the "Guitar Hero" franchise. Your attention will be focused on the highway as colored blocks and symbols pass by while your avatar does something in the background. The modes of famous DJs are spot on from what I can tell, and the original characters are in the style of musical drag that fans of "Guitar Hero" will recognize.
There are a few graphical hiccups here and there though. The most annoying and obvious being when your avatar's hands are raised in the air, egging the crowd on, while they should be furiously scratching the record as you are.
The Disappointments....

The controller is effective for what it is, but it feels like there's room for improvement. The cross fader is too sensitive and on higher levels of play this leads to a loss of multiplier; the turntable itself isn't sensitive enough. While these small setbacks won't ruin the experience for anyone, they may prove frustrating during a long session of play.
Overall...

Overall "DJ Hero" is a good start for a new franchise. The gameplay is a breath of fresh air and the sound track is as well. Though there are some minor problems, that a sequel or downloadable content should fix, anyone looking for a music game to bust out at parties will find "DJ Hero" a welcome addition to their shelf.
- Michael Wafford